Trip Recap: Pequeño Alpamayo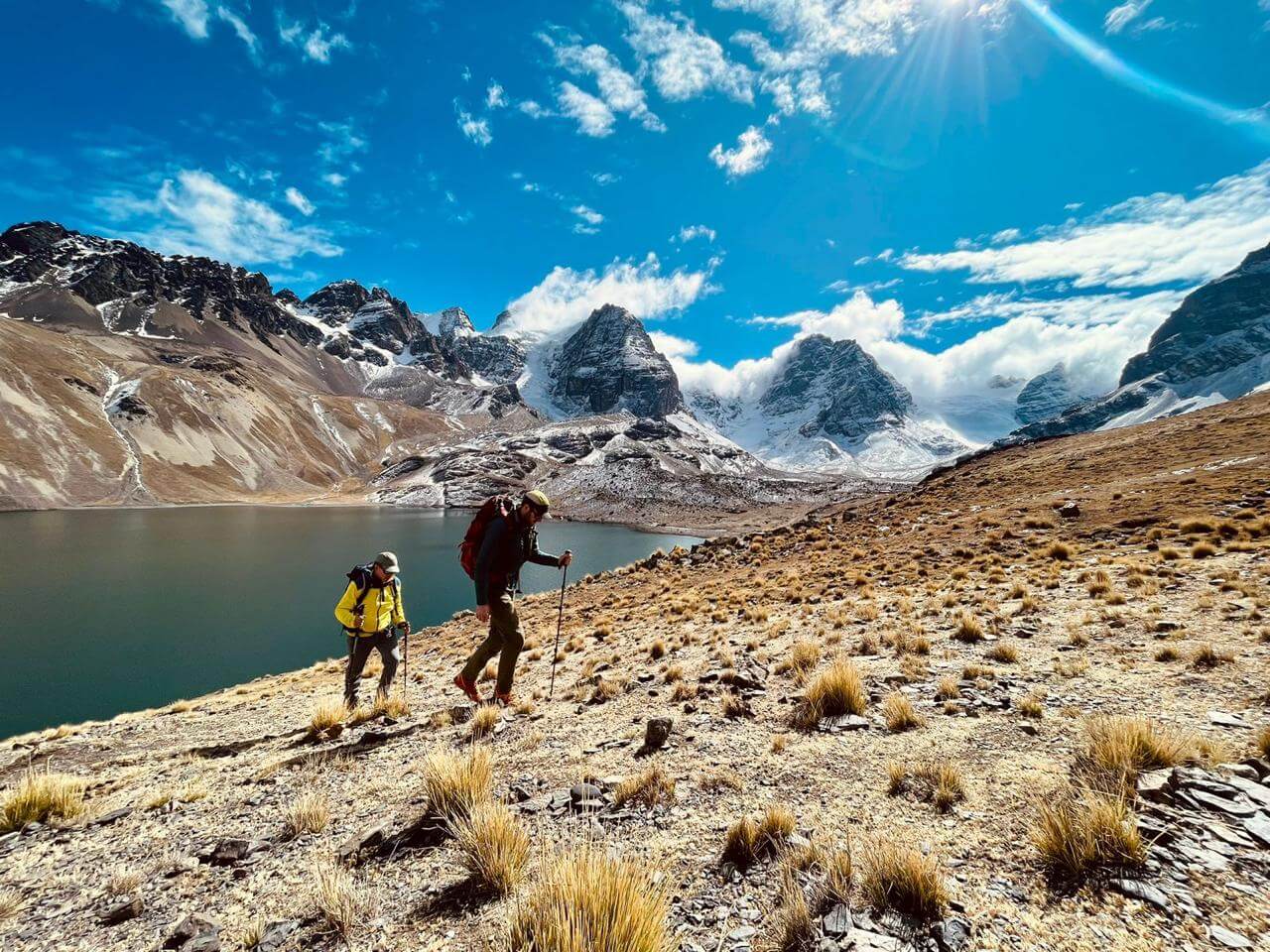 Bolivia – 17,618′ / 5,370m
Private Pequeño Alpamayo Expedition Returns From The Field
Bolivia is a climber's dream.Of all the Andean countries, Bolivia remains the least touristy and most adventurous.
Based on the general itinerary and logistics of our Mountains of Bolivia expedition, our private Pequeño Alpamayo team had great success summiting not only Pequeño Alpamayo (17,618′ / 5,370m), but also Illimani (21,122′ / 6438m), Huayna Potosi (19,974′ / 6,088m), and Pico Austria (17,438′ / 5315m).
Summit of Pico Austria:
A non-technical 17,000' / 5182m peak with fantastic views of all the surrounding peaks. It is a 3-4 hour hike up sand and scree to the summit, and is ideal for acclimatization.
Summit of Pequeño Alpamayo:
Pequeño's face is beautiful and offers a technical yet reasonable climb. It is also the ideal place to hone mountaineering skills. We spent five days practicing glacier and climbing skills, acclimatizing, climbing sub-peaks, and finally making our summit bid. The summit day consisted of traversing a moderate glacier, climbing two pitches of 4th-class rock, and then navigating steep ice or neve on a knife-edged ridge.
Summit of Huayna Potosi:
Huayna Potosi is taller than all but a handful of peaks in the Americas. After a short drive from La Paz to base camp, we spent a day practicing steep ice climbing skills on the glacier's edge. Our summit day route consisted of steep glacier travel, huge crevasses, and a final airy ridge to the top. A summit of Huayna is a proud day, and serves as excellent preparation for bigger routes. The views from this summit encompass the countless peaks of the Cordillera Real, the city of La Paz, and on a clear day the distant Sajama — Bolivia's rarely-climbed tallest peak.
Summit of Illimani:
Illimani is the tallest mountain in the Cordillera Real. With the acclimatization and skills we have gained on Pequeño Alpamayo and Huayna Potosi, we were ready to tackle this challenging peak. From there, and with the assistance of local high altitude porters, we moved up to the Nido de Condores, or "Nest of the Condors" — our very aptly named high camp at 18,372'/5,600m. Summit day took us across an exposed ridge and then onto broad snow slopes, around crevasse fields, and eventually onto the final, classic, knife-edged summit ridge.
Interested in climbing in Bolivia with us? Check out our Mountains of Bolivia expedition below or contact Griffin@alpenglowexpeditions.com to set up a private, custom expedition comprised of your personal goals!