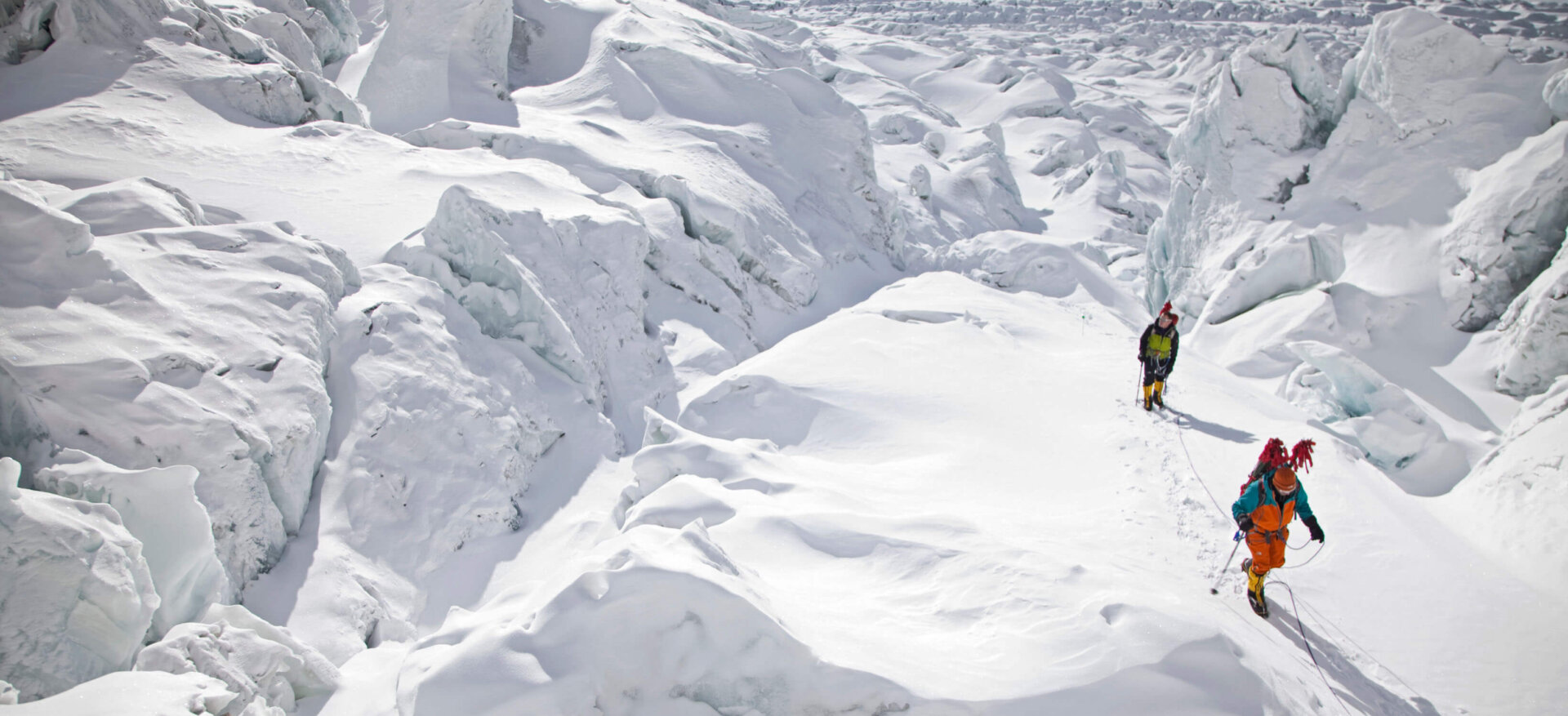 The following blog is courtesy of Billi Bierling, Himalayan Experience:
Acclimatising, Rope Fixing and Sad News
The members of our first group, dubbed the 'Yaks', have spent their first night on top of Lobuje East at 6,129m (20,225ft),which should catapult them forward in their acclimatisation process. "We are basking in the sun up here and everyone is feeling great," I heard Adrian say over the radio. On Thursday morning, Adrian and some Sherpas fixed the rope to the central summit and those members who felt like exercising a bit, followed their footsteps. "The views were amazing from up there," said Dan, one of the members.
While the 'Yaks' are getting used to the higher elevation, the 'Yetis' are down at Lobuje Base Camp resting after their first successful summit of Lobuje East a few days ago. "We are looking forward to going back up, getting better acclimatised and then go back to the luxuries of Everest Base Camp," our guide Shinji said.
Even though the Himalayan Experience camp has been rather quiet over the past few days, life has been going on. On Wednesday, around 120 people (five of which were women) gathered at our camp to discuss how to go about the rope fixing – an essential part of climbing Mount Everest as without it, very few people would make it to the top. Most of the operators, big or small, showed up together with their Sirdars (Head Sherpa) to establish who is doing what this season. The organisation of the rope fixing has improved significantly over the past few years and this season, Russell Brice has purchased everything needed for the fixing (ropes, ice screws, snow stakes, etc.) and charges around 195 USD per climbing member. "New this year is that I don't have to walk around Base Camp with my big purse any longer to collect the money. The fee is being charged through the trekking agent of each operator, who will then pay me," he said.
What has also improved this year is the quality of the rope. "I did some research on ropes and I found that the rope we are using this season is much better than the Korean rope we used to use," British mountaineer and guide, Kenton Cool commented during the meeting. "I know it is a lot more expensive, however, it is four times as strong as the old Korean rope," he continued.
Rope carrying
The ground around the crowd was covered in 50 plastic bags containing 200m of rope each. "We need volunteers to carry the rope up to Camp II and it should be there on 24th April," said Russell. It was good to see how well everyone was willing to work together and the bags of rope 'sold like hot cakes' as they were gone within minutes. Other things that were discussed during the meeting was the safety of the Khumbu Icefall, which is being fixed with ropes and ladders by the so-called 'Icefall Doctors'; using an 'up-and-down' rope on the Hilary Step and the future of using avalanche beepers in the icefall. "I don't know any other avalanche-prone terrain where people go without beepers and I just don't understand why many teams are still not using them," said American Everest veteran, Dave Hahn. Himalayan Experience has been using avalanche beepers for a few years now and all our Sherpas, guides and members are equipped with one. "Of course, it is expensive to buy them but they are essential for the Khumbu Icefall," Russell added.
Also present at the meeting was Dr Luanne Freer, who has run the Everest Clinic under the Himalayan Rescue Association (HRA) for ten years now. "I think it is wonderful how people always work together on Everest and I really hope that this will continue in 2012," she said. The HRA charges expedition leaders 100 USD per member, who can then use the clinic for free at any time. "This way we make sure that the locals get free treatment, which they often need."
While Dr Freer was talking about safety and the necessity for the Sherpas to visit the clinic and get free treatment, there was some commotion going on in the background. The doctors of the clinic were suddenly running towards the Everest Base Camp trail and I could see our Sirdar Phurba Tashi haul our huge medical kit into the same direction.
We later found out that very sadly a Sherpa, who was employed with another trekking agency, had suddenly died. "He had been feeling sick but he did not realise the seriousness of his illness," said Rachel, one of the doctors at the clinic. The death of this young Sherpa brought darkness to Base Camp on Wednesday night, but fortunately for the deceased, a Lama from his home village of Thame was in the region and held vigil at the helipad all through the night. Russell and three of his Sherpas went to visit the vigil and provided the chanting Lama with tea, biscuits and some money. "I will give more money to the family when I am back in Kathmandu," said Russell, who had known this Sherpa for a while. On Friday morning, the body was flown back to Kathmandu where it was received by his family.
Despite this sad event, life goes on at Base Camp and our Yak team will arrive back here on Friday afternoon while the Yetis will climb to the top of Lobuje East for their second acclimatisation rotation and arrive back here on Sunday. Our Nuptse and Lhotse teams are still on their way up and are expected here on 23rd April – a day before our 'Puja'. Until then I will of course provide you with more news from our expedition and send more profiles of our expedition members.
www.himalayanexperience.com