Updates from the '22/'23 Aconcagua Climbing Season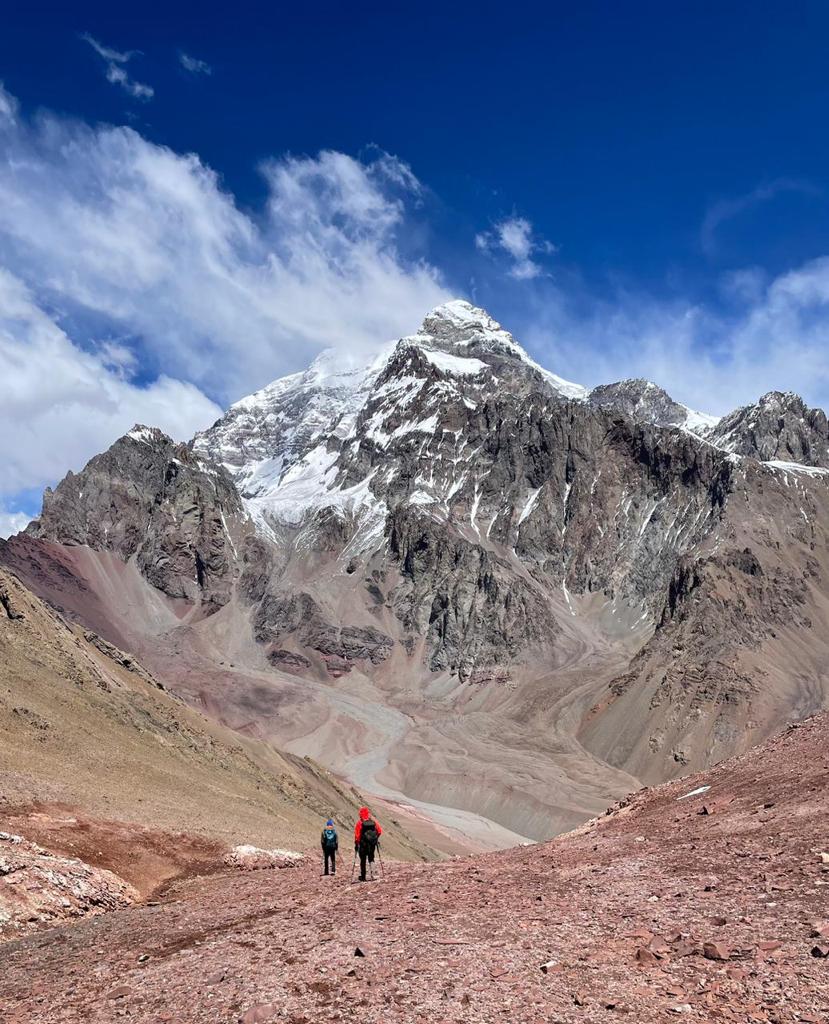 The 2023 climbing season on Aconcagua has been nothing short of challenging. High winds, heavy snows, and bitter cold have hindered many summit attempts on the mountain throughout the season, a reminder that it is ultimately the mountain that decides whether or not we reach the top. Nonetheless, Alpenglow owner and founder Adrian Ballinger has often reflected on his most challenging expeditions, and even his failures, as his most enriching experiences in the mountains. While a journey into the mountains offers no guarantee of success, it remains an opportunity for growth and mindful reflection. This was the case for our first two attempts on Aconcagua this season, led by Alpenglow guides Jaime Avila and Roberto 'Tico' Morales.
Jaime's team—Kaitlin, Bill, Emily, and Howard, put in an incredibly strong effort through raging winds and spindrift to acclimatize and eventually reach Camp 3 (19,700'/6000m) on Aconcagua. After pushing through deep snow against strong winds roughly 150m above Camp 3, Jaime and the team decided to begin their descent.
Our second team, comprising Ben, Khiery, Tylor, and Matt led by Tico Morales, built on Team 1's experience and feedback, climbing to nearly 6700m/21,981ft. At this point, high winds and heavy snow had completely buried the trail to the top. On their summit push, often the most difficult day of the expedition, Team 2 broke trail through deep snow towards the summit before turning around just shy of the top.
Back at base camp, Tico's team discussed the prospect of taking a brief rest before making another summit attempt. In the end, the group concluded that they had put in a solid effort, and that the weather windows were not sufficient to try for a second summit attempt. While making the summit is an impressive feat in its own right, often more difficult is the decision to leave the mountain for another day. Ultimately, Alpenglow's top priority is safety, risk mitigation, and being able to return to the mountains when the time is right, and we are incredibly proud of the team for making this decision.
Shortly after Team 2's summit attempt, Jaime returned to Aconcagua for a private expedition with Mark and Evan, a father-son duo with experience in the mountains and eyes set on the summit. During acclimatization laps, Mark decided to cap his adventure at Camp 2 before returning to base camp. The next day, Jaime and Evan headed up to Camp 2.
Though the powerful winds were an added difficulty, much of the snow that previous teams had struggled with was blown away. With grit and persistence, Jaime and Evan were able to push up to Camp 3 the next day, and reach the summit of Aconcagua the day after.
Then, on the morning of January 23rd, Tico successfully reached the summit of Aconcagua with Nate and Ryan, our third open-enrollment team. After acclimatizing to Camp 2, the team returned to base camp before looking ahead to an upcoming weather window. Despite ongoing snow and high winds, the team felt that the risks could be mitigated adequately and charged to the summit.
Congratulations to Jaime, Tico, Mark, Evan, Nate, and Ryan for this incredible accomplishment!
Does this sound like the adventure of a lifetime? We'd love to have you join us in the '23/24 climbing season on Aconcagua. For more information about the Aconcagua Rapid Ascent or any of our international expeditions, check out our website. For any questions call our office at 877-873-5376 or send us an email info@alpenglowexpeditions.com. We hope to climb with you soon!