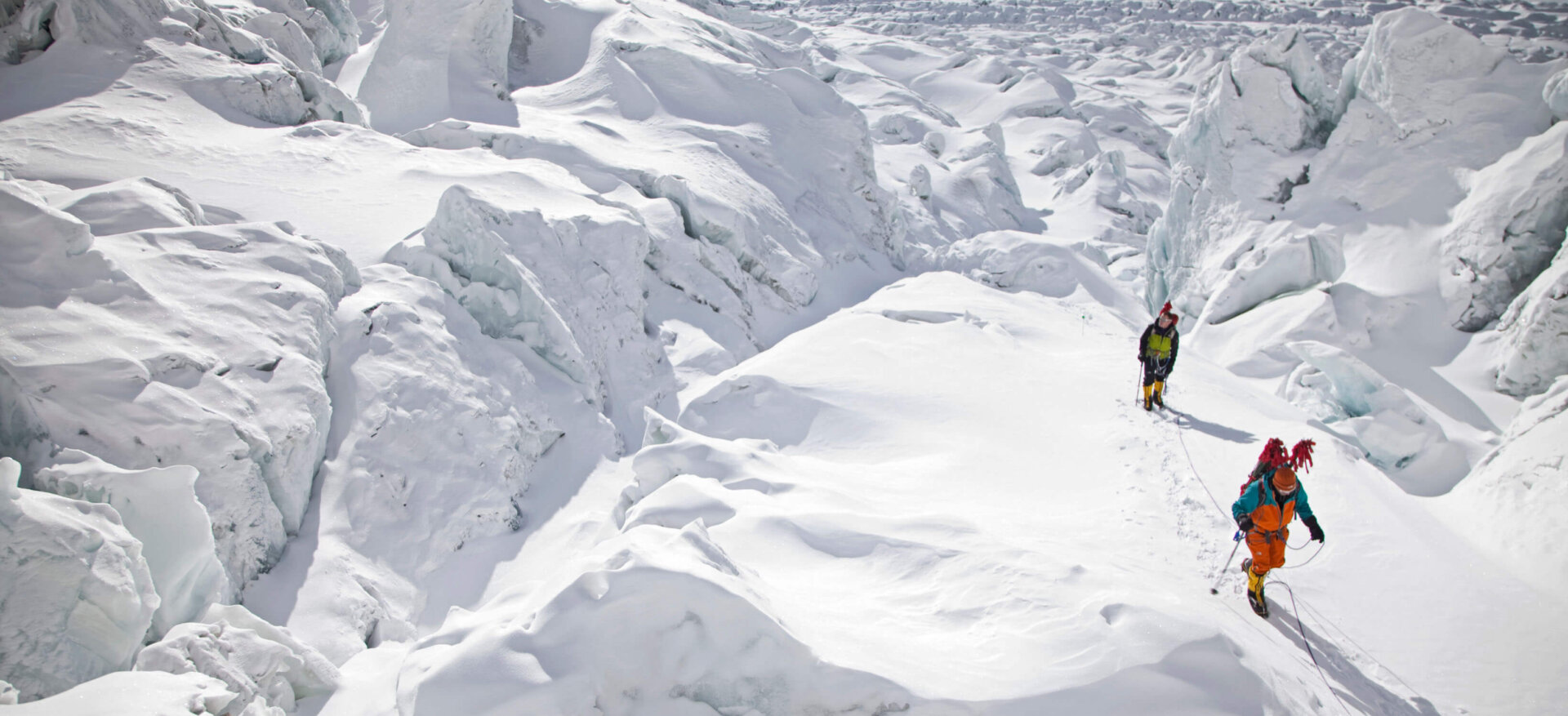 11 climbers on the 11th day of the 11th month of 2011… that's who was on the top of Ama Dablam just a couple of days ago!!! Yippeeeeee!!!
The team of 6 climbers worked hard to move from camp 1 to camp 2.7 on the 10th. It was another spectacular day of course; retracing our steps to camp 2 and then beyond, up the sketchy snowy couloirs of the Grey Tower, with the constant shower of rock and ice missiles, and then traversing around the final rocky outcrops to gain the famous Mushroom Ridge. The Mushroom Ridge is famous for no other reason than that it is utterly terrifying: for approximately three quarters of a mile (1km) one must walk along a snowy ridge no more than 18 inches wide (30cm) with an abyss of thousands of feet falling away at either side. It is a stunningly beautiful place, but I have to admit that personally, I was so gripped with fear that I wasn't able to appreciate it to the full!
The "exciting" Mushroom Ridge led us right into our tiny 3 tent camp, perched precariously on the steep snowy face below the final slopes of Ama Dablam. For 3 years now, Alpenglow Expeditions has chosen to position it's final camp (camp 2.7) just below the traditional plateau used for camp 3. This is to avoid the possibility of being hit by serac fall from the Dablam that hangs directly above. It is difficult to fathom that a camp could be placed where our 2.7 is (I kept having flash visions of our little tent becoming unstuck and tumbling into the abyss), but such is the skill and stamina of our Sherpa that when we arrived at the tents, everything we would need for the night was there.
The hours in camp before summit day are spent mainly melting snow, but also trying (unsuccessfully) to get comfortable, trying (unsuccessfully) to eat and drink, trying (unsuccessfully) to prepare for the following day and trying (unsuccessfully) to quell fears and nerves about the task ahead. Thankfully, there are not very many hours to be spent in this fruitless way, and at 0230 on the 11th the alarm sounded and the final preparations for a 4am start were underway.
The group of 6 climbers and 5 climbing Sherpa (two of whom had spent the night at camp 2 and left early to come and meet us on the way up) left camp just after 4am. The full moon was still in the sky lighting up the snow with it's eerie yet magical light; and the cold, cold wind was a very real reminder that we were high on the slopes of a big Himalayan peak before dawn. This type of climbing is hard to describe as fun; it's freezing cold, it's the middle of the night, there is barely enough oxygen to tie a shoelace without breathing hard, let alone scaling scary steep faces of ice, yet for some reason it is an incredible experience. Erica likes to describe it as Type 2 fun: that which is so much more fun after the event….it is the perfect definition of high altitude mountaineering!
Anyway, the fact is that we all got our heads down away from the wind, and climbed up and up and up. There were rocky steps that required bursts of energy and a little precision, there were sections of benevolent neve snow, and there were faces of bullet proof ice accepting but a couple of crampon front points….and it went on and on and on. The whole time that we were tiny specks moving up that final snow/ice face, the moon was retreating behind the high peaks to the west and the sun was rising from behind the high peaks to the east. High peaks everywhere, framing that serene transition from night to day that is so rarely appreciated in so much beauty.
We spread out a little on they way up, the Sherpa interspersed amongst the group giving their invaluable help and motivation to those of us who found it hard, but ultimately between about 8:30 and 9.30am the whole team was on the summit together. It was sunny and warm enough to enjoy the spectacular and close up views of the most famous giants of the region; Everest, Lhotse and Makalu as well as looking at the plethora of smaller peaks equal in beauty but not quite tall enough to have earned a name in the Himalaya.
Ironically the summit of Ama Dablam is large and flat and friendly…it's as if once you have scaled her vertical slopes and ridges, she rewards you with a comfortable place to collect your thoughts and energies before engaging in the descent. It is a place of unspoiled beauty that makes every ounce of effort it took to get there melt away and be replaced by awe. The awe however had to be suspended after a short while because of course…we had to get down. I shall not bore you with the intricacies of the descent; suffice it to say that the ridges, ice faces, couloirs and traverses all become about one thousand times more terrifying when facing downhill and on running half empty. Half of the team made it all the way back to base camp last night, three of us stayed at camp 1 which we only just arrived at as darkness fell and everyone was exhausted, happy and safe.
Now we are back in base camp, happily re-hashing yesterday's climb and quietly thinking about getting ready to leave base camp tomorrow. Our two independant team members, Brad and Blues, are on their way up to camp 2.7 now and hope to summit tomorrow morning. We wish them all the best. The rest of us will be walking to Namche Bazaar for the final two days in the Khumbu Valley.
On behalf of all of us, thanks to the whole Alpenglow Expeditions team for making this climb of Ama Dablam such a success and so much fun. And thank you friends and families for reading our updates and supporting our quest for Type 2 Fun!!!
Ciao.
Monica Piris
Expedition Doctor and climbing member.
Team member Ewan Ritchie would like to post a message on the blog:
To Emily Owen and classmates at Thames Ditton Junior School: Hi from Ama Dablam Base Camp (Nepal). Love Ewan.