Mount Shasta 2-Day Avalanche Gulch Climb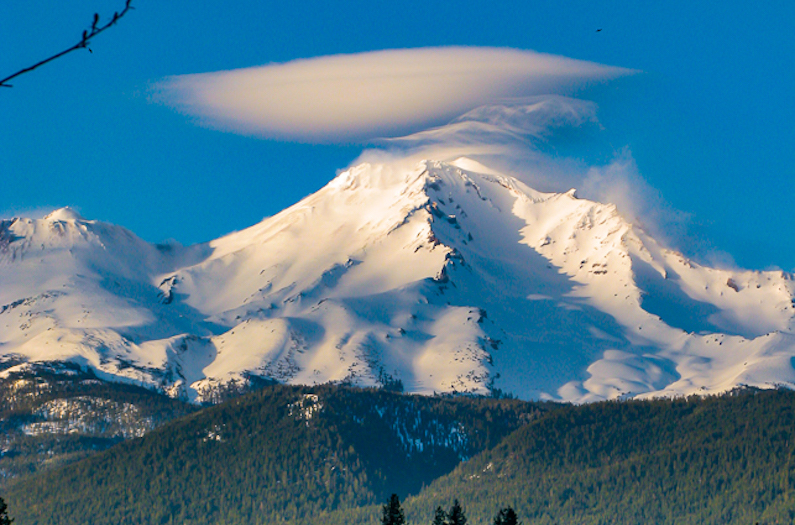 Mount Shasta 2-Day Avalanche Gulch Climb
This direct 2-day route is a rewarding and fast-paced option to summit Mount Shasta, the jewel of Northern California, at 14,179 ft (4322m). This quick ascent of the peak is suitable for those with very good physical fitness and limited time.
May 11, 2024 – May 12, 2024
This is a 2-day alpine climbing trip that will focus on a quick summit of Mount Shasta- a magnificent stratovolcano at the southern end of the Cascade Range- via the famous Avalanche Gulch route.
The first day's work will involve climbing up to a high camp around 9,500 ft elevation where you will make camp for the night, go over basic snow climbing techniques, and plan for the next morning's summit. An alpine start on day 2 will get you to the top by late morning and back to the trailhead by early evening. This is an aggressive itinerary and proper training is essential to success!
Day 1

Ascend to Camp

8:00am: Meet and Greet in Town
9:30am: Depart for Bunny Flat trailhead (6,880 ft)
11:00am-12:00pm: Lunch break at historic Horse Camp (7,880 ft)
3:00pm: Arrive at Camp (9,500 ft) and set up camp
4:00pm – 5:00pm: Climbing training
5:30pm:-7:30pm Dinner, Climb briefing, pack
8:00pm: Bed

Day 2

Summit Attempt

Alpine start (1:00am-3:00am, conditions dependent)
Turnaround time (10:00am-12:00pm, conditions dependent)
3:00pm: Depart from Helen Lake for Trailhead
4:30pm-5:30pm: Arrive at Trailhead
FAQ's
The answers to our most commonly asked questions.
Hat

Bring your favorite baseball hat for shelter from the sun. No white under the brim – the reflection off of it from the sun is blinding.

Recommended: Alpenglow Hat

Beanie

A comfortable, warm well-fitting hat that covers your ears. Make sure that one of your hats fits under a helmet.

Recommended: Black Diamond Levels Beanie 

Balaclava

We recommend a tight-fitting balaclava that is worn under your hat. Make sure that it covers as much skin as possible, but is comfortable enough to wear for hours.

Recommended: Black Diamond Coefficient LT Balaclava

Neck Gaiter (Buff)

A multi-purpose neck gator that can also be worn under your hat. Make sure that it covers as much skin as possible and yet is still comfy.

Recommended: Alpenglow Buff

Sunglasses

Must have dark lenses. Minimal light should come in below, above, or around the sides of the lenses."Wrap" style is best. Ventilation is important and a retainer strap is very useful (Chums or Croakies).

Recommended: Vaurnet Ice Rounds

Goggles

These will be worn on stormy or windy days. Make sure you are getting a snug fit with lenses for bright sun. Ventilation and anti-fog features are desired.

Recommended: Vuarnet Everest Goggles

Liner Gloves

These gloves keep the inside of your mitts or other gloves from accumulating sweat on the inside and turning inside out when you take them off, as well as provide additional insulation.

Recommended: Black Diamond Lightweight Wooltech Gloves

Lightweight Gloves

All-around gloves for mountaineering, backcountry skiing, and hiking. These gloves (and similar options) are warm, wind-resistant, durable and have a sure grip. You will rarely take these gloves off. They should be snug-fitting, and have some sort of reinforced palm.

Recommended: Black Diamond Tour Gloves

Ski Socks

Ski socks will keep your feet warm and dry during long tours in the mountains.

Recommended: Smartwool

Hiking Shoes

These light to mid-weight shoes are for everyday use. The ideal shoe is comfortable to wear for multiple days and scrambles decently on rock. A Gore-tex lined shoe stays drier when hiking in rain or snow.

Recommended: La Sportiva TX Guide

Mountaineering Boot (4,000m)

Should be warm single boots that have a stiff sole and accept a step-in crampon, or double boots if you have very cold feet. The boots should be comfortable, have adequate wiggle room for your toes, and your heel should not lift more than 1/8 of an inch when walking.

Recommended Early Season (April-June): La Sportiva Nepal Evo GTX 

Recommended Late Season (July-August): La Sportiva Trango Tech GTX

Helmet

An easily adjustable lightweight helmet that fits with hat and Balaclava. Make sure this is a climbing-specific helmet. *Climbing helmets are also available to rent (for our introductory climbing courses) at no charge from Alpenglow Expeditions on a first-come, first-serve basis.

Recommended: Black Diamond Vision Helmet – MIPS

Mountaineering Harness

Must have belay loop, gear loops and adjustable leg loops so that you can layer up underneath it. Easy to pack, lightweight + comfortable. *Harnesses are also available to rent (for our introductory climbing courses) at no charge from Alpenglow expeditions on a first-come, first-serve basis.

Recommended: Black Diamond Couloir

Mountaineering Crampons

Steel crampons with anti-balling plates are required (so that snow does not build-up in the base of your foot). Make sure that crampons have a heel bail. Crampons are available to rent (for our introductory climbing courses) at no charge from Alpenglow Expeditions on a first-come, first-serve basis.

Recommended: Black Diamond Sabretooth Crampons

General Mountaineering Axe

One non-technical climbing axe. The tool should be approx. 55cm- 65cm long and comfortable to hold. *Ice axes are also available to rent (for our introductory climbing courses) at no charge from Alpenglow expeditions on a first-come, first-serve basis.

Recommended: Black Diamond Raven Pro Ice Axe

Technical Kit

While the technical equipment needed for a specific objective and season varies, this basic kit is a great baseline. Your guide will bring gear for you to use during your course, but participants are encouraged to bring some or all of this if you own it or are interested in purchasing it.

1 Cordalette (6mm x 5m/16.4′)
4 locking carabiners
2 non-locking carabiners
1 double-length Dyneema sling
Small prusik loop (6mm x 112cm/44″)
Auto-blocking belay device (eg. ATC guide)
Micro Traxion or similar

Climbing Pack: 60-75L

Internal frame pack that is between 60 and 75 liters. Either purchase a matching pack cover, or use garbage bags as liners. Make sure the pack is fitted to YOUR body.

Recommended: Black Diamond Mission 75

Headlamp

L.E.D. headlamps are required. Make sure they have 3+ bulbs. Bring extra batteries. We highly recommend a tilting lamp.

Recommended: Black Diamond Storm 450
I'd give them 7 stars if I could!

"Super happy with our Mt. Shasta 3-Day climb guided by Tim Mincey from Alpenglow. The Alpenglow team was very helpful and responsive in getting our trip planned and booked. Tim did a superb job not only coaching us on mountaineering basics and safety, but also making adjustments to our plan based on day-to-day weather. Everyone in our climbing party was thinking about what next adventure we can book with Alpenglow before we even got off the mountain. I'd give them 7 stars if I could!"