Aconcagua Expedition Route
Climb the tallest mountain in the America's in just 14 days.
Peaking above the clouds at 22,841 feet/6,962m, Aconcagua is impressive both in stature and beauty. The tallest peak in the Western hemisphere is the ideal training ground for 8,000 meter peaks. While it is possible to climb Aconcagua without prior technical experience, inclement weather often deters inexperienced mountaineers. The peak is fraught with massive storms that produce freezing temperatures and savage winds. A summit of Aconcagua is a proud achievement, requiring critical preparation and dedication. The climb demands extensive acclimatization (made easier by Alpenglow's unique Rapid Ascent™ approach), setting up camps, and carrying heavy loads (although reduced by Alpenglow's use of extra porters). A summit bid is no small feat.
Climb Aconcagua's 360° Route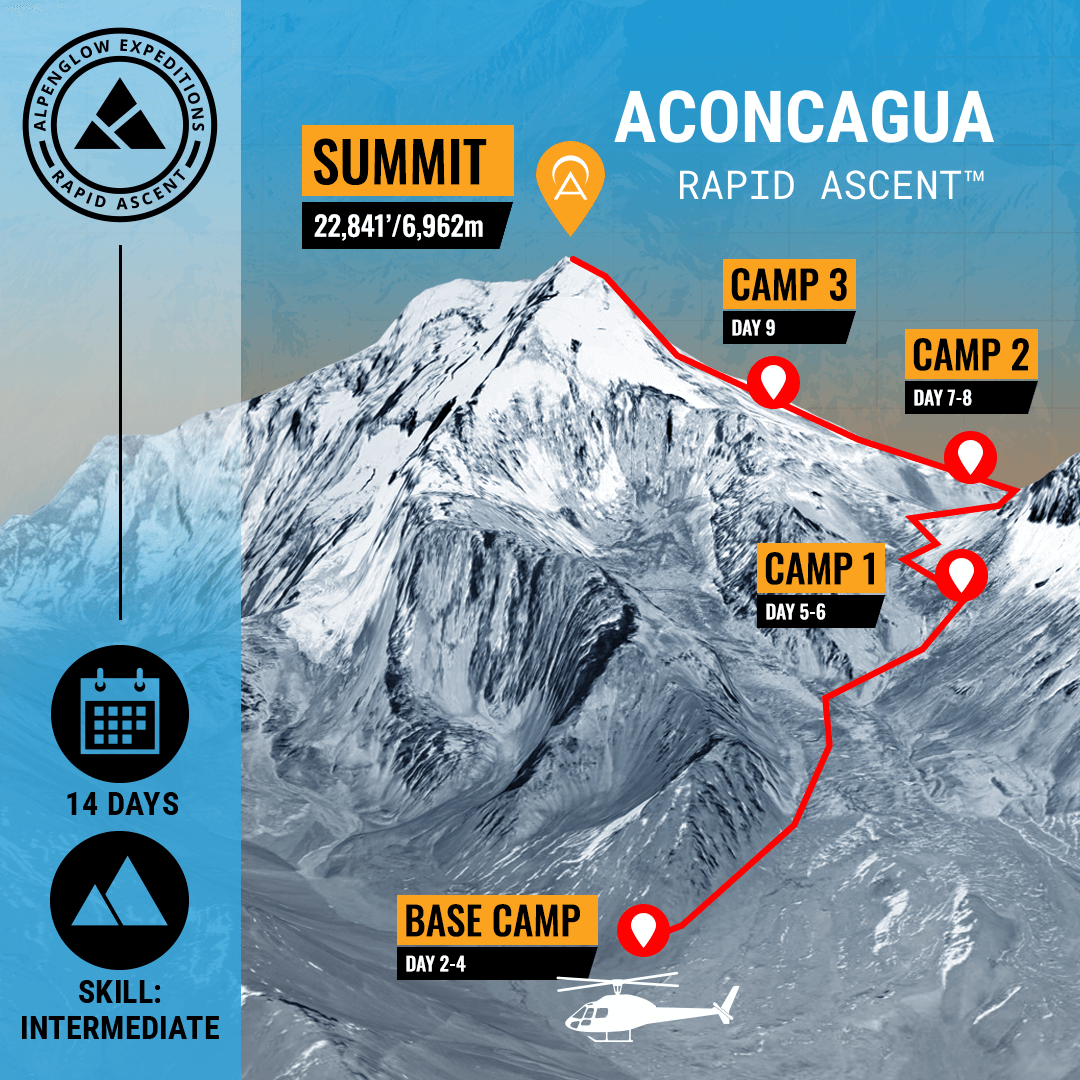 To maximize your summit chances, we ascend a route called the 360° Route. This more obscure itinerary mitigates the issue of crowds, trash, and overuse encountered on the normal route, while enabling us to summit without any technical climbing. True to its name, this exciting route combines parts of four different routes (The Polish Glacier, Normal, Guanacos, and Ameghino) and traverses all the varied elements on Aconcagua.
The Journey to Aconcagua Base Camp
Our Aconcagua expedition begins in Mendoza with a formal meet and greet with guides and fellow climbers. We stay in comfortable lodging and enjoy a steak dinner before leaving town for the mountain.
The following day we will take a private van to the town of Penitentes. After organizing our gear and food, a helicopter will carry us to our 13,800'/4,206m base camp. Here we will spend the next two or three days resting, eating delicious food and enjoying one or two acclimatization hikes.
Climbing Aconcagua
From Aconcagua Base Camp, we move to Camp 1 climbing over a moraine before making our way through a section adorned with beautiful ice sculptures called "penitentes". At Camp 1 we'll spend 2 nights, with an acclimatization move to Camp 2 and back.
Moving up to Camp 2 we'll spend 2 nights with one day of rest. From here we'll get our first views of the Polish Glacier as we lounge below. The much needed day of rest will allow us to hydrate and take in some calories and will be crucial to our next two days of climbing. Leaving Camp 2, we'll traverse below the Polish Glacier before joining the normal route at Camp 3. The day is not difficult, but can provide fantastic climbing on 30 degree slopes. Reaching Camp 3 we begin resting, hydrating and preparing for the summit bid.
The Summit of Aconcagua
The summit day is extremely challenging, but entirely attainable. We will climb over 3,200 vertical feet, 975 meters across sand, scree, and — during some seasons — snowfields. When you reach the summit of Aconcagua, you will be standing on the highest point in the Americas. Exceptionally stunning views of the encompassing snow-capped Andes serve as your ultimate reward.
After summit photos and celebration, we will descend back down to our high camp to rest and rehydrate and then continue on to Plaza des Mulas basecamp. The following morning, a helicopter will whisk us back to Mendoza, where we will enjoy a well-deserved celebration over delectable steaks and flavorful red wine.
Interested in learning more about our Aconcagua Rapid Ascent Expedition? Click HERE to inquire today!