Alpenglow Is Returning to Everest and Cho Oyu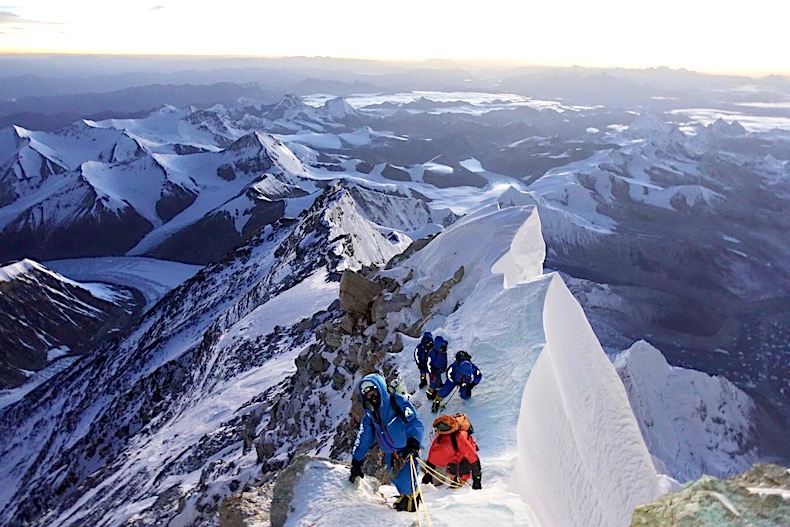 After a recent announcement that China will be opening its borders to tourism, we are thrilled to share that Alpenglow is returning to Cho Oyu in 2023 and the North Side of Mt. Everest in Spring 2024. As one of the most experienced operators on 8000-meter peaks, Alpenglow is excited to return to the Tibetan Himalaya to provide profound mountain experiences for those with their eyes set on climbing two of the tallest mountains in the world. —
So, why climb with Alpenglow? Read below to see how we are providing unique, efficient, and ethical climbing experiences in the Himalaya.
Alpenglow's Rapid Ascent™ Program
Alpenglow has partnered with Hypoxico to bring you our signature Rapid Ascent program, maximizing safety and efficiency in the mountains. While a traditional expedition may take upwards of six to eight weeks, Alpenglow's Mt. Everest North Side Rapid Ascent™ runs in just 35 days round-trip, and Cho Oyu Rapid Ascent in just 28 days. Through pre-acclimatization with the use of Hypoxico tents, Alpenglow cuts expedition times by up to 50% by allowing climbers to pre-condition up to 18,000' in the comfort of their own home. This allows climbers to pursue their ambitions in the mountains without sacrificing too much time away from responsibilities. With Rapid Ascent™, we can spend significantly less time acclimatizing on the mountain itself, increasing our chances of success while mitigating risk and reducing our overall impact on this fragile and precious environment.
Climb Cho Oyu as Your First 8000er, or Climb a Unique Route on Everest
There are a number of reasons why Cho Oyu is the ideal first 8000er for the skilled mountaineer. Widely amenable weather windows, low risk from ice or rockfall, few technical sections, and predictable avalanche conditions make this a near-perfect mountain to tag as your first 8000-meter peak. Plus, an ascent of Cho Oyu qualifies you to make the next big step in your mountaineering career, a pinnacle of high-altitude climbing: Mt. Everest.
Since 2015, Alpenglow has been operating exclusively on the North Side of Mt. Everest. Although slightly more challenging of a route, the ascent via the North Side is significantly less crowded and much easier to mitigate objective hazards. A traditional expedition from the Nepal side requires that climbers make numerous trips through the dangerous Khumbu Icefall, whereas a Rapid Ascent™ expedition from the North Side forgoes those exhausting acclimatization rotations through extremely volatile terrain. Our teams are the best-equipped to handle the remoteness of the North Side, and this extends beyond just our guides. Our Sherpas, cooks, and doctors have worked extensively in Tibet, placing Alpenglow atop the list of the most experienced operators on the route.
Small Groups, Experienced Support, and Maximum Safety + Comfort
We like climbing in small teams. Both expeditions are strictly limited to 12 team members, making operations and adaptations in the face of unforeseen circumstances (weather, group conditions) much more manageable both for individuals and the group as a whole. We've been working with our Sherpa team for two decades, and a climber to Sherpa ratio of 2:3 and a climber to guide ratio of 4:1 ensure that we move intelligently and efficiently in a dynamic environment. When we are not climbing, team members will enjoy Base Camp accommodations complete with a cook tent and a heated lounge area with comfortable chairs, cushy rugs, and access to internet and communications. We strongly believe that being comfortable aids in recovery, and recovery is crucial for climbing. We leave no stone left unturned when it comes to providing comfort to our team members.
Our Rapid Ascent™ itinerary is structured to maximize efficiency and minimize time spent waiting on the mountain. Both climbing days and rest days, though subject to adaptation, are pre-determined to make best use of our time on the mountain.
World-Class Guides and Logistics, Respect for the Places We Cherish
All of our 8000-meter guides are certified or fully certified IFMGA Mountain Guides, signifying that they have completed rigorous, multi-year training modules at the highest level of standardized climbing and mountaineering. Over the course of history on 8000-meter peaks, roughly 30% of climbers abandon the climb before even making a summit attempt. This is usually due to the fatigue amassed throughout multiple trips up and down the mountain, a climbers' physical condition or illness, or commitments at home that require a climber to depart early. Alpenglow has taken measures to address all of these issues through our Rapid Ascent itinerary led by some of the best mountain guides in the world, supported by use of the best available technology in weather forecasting, oxygen systems, and pre-acclimatization.
Moreover, at Alpenglow we seek to set the standard of respect for the mountains we climb. While Rapid Ascent drastically reduces our overall impact by shortening our stay on the mountain itself, our guides also arrive early and stay late in order to pre-set ropes and camps and perform post-expedition mountain cleanup operations. Additionally, we require that all team members provide extensive proof of experience in the mountains and at altitude, so that we can operate not purely as individuals but instead as a team. Safety and efficiency are paramount on all of Alpenglow's expeditions, and we maintain a profound level of respect for the mountain and ensure that neither we nor our teams never underestimate its potential hazards.
When choosing a guide service to climb an 8000-meter peak, we recognize that there is a lot at stake. Between time away from home, work, and family obligations, as well as the challenge of the climb itself, a Himalayan expedition is no small undertaking. As such, choosing the right guide service to match your ability, your schedule, and your climbing ethics and principles is the most important decision made during initial expedition planning. This is why we offer access to our logistics team seven days a week, before, during, and after your expedition. We are here to answer your questions, offer support, assist in travel coordination, recommend training plans, and everything else you need before heading to the big mountains.
To get started on planning your dream adventure to the Himalaya, follow this link to schedule a call with our international expeditions professional, Griffin. This 30-minute exploratory call can help you determine which expedition is right for you based on your skill level and climbing experience. If none of those times work for you, give us a call at 877-873-5376 or send an email to griffin@alpenglowexpeditions.com to let us know what time works best!