Base Camp Living, Lobuche Climbing, Preparing the Mountain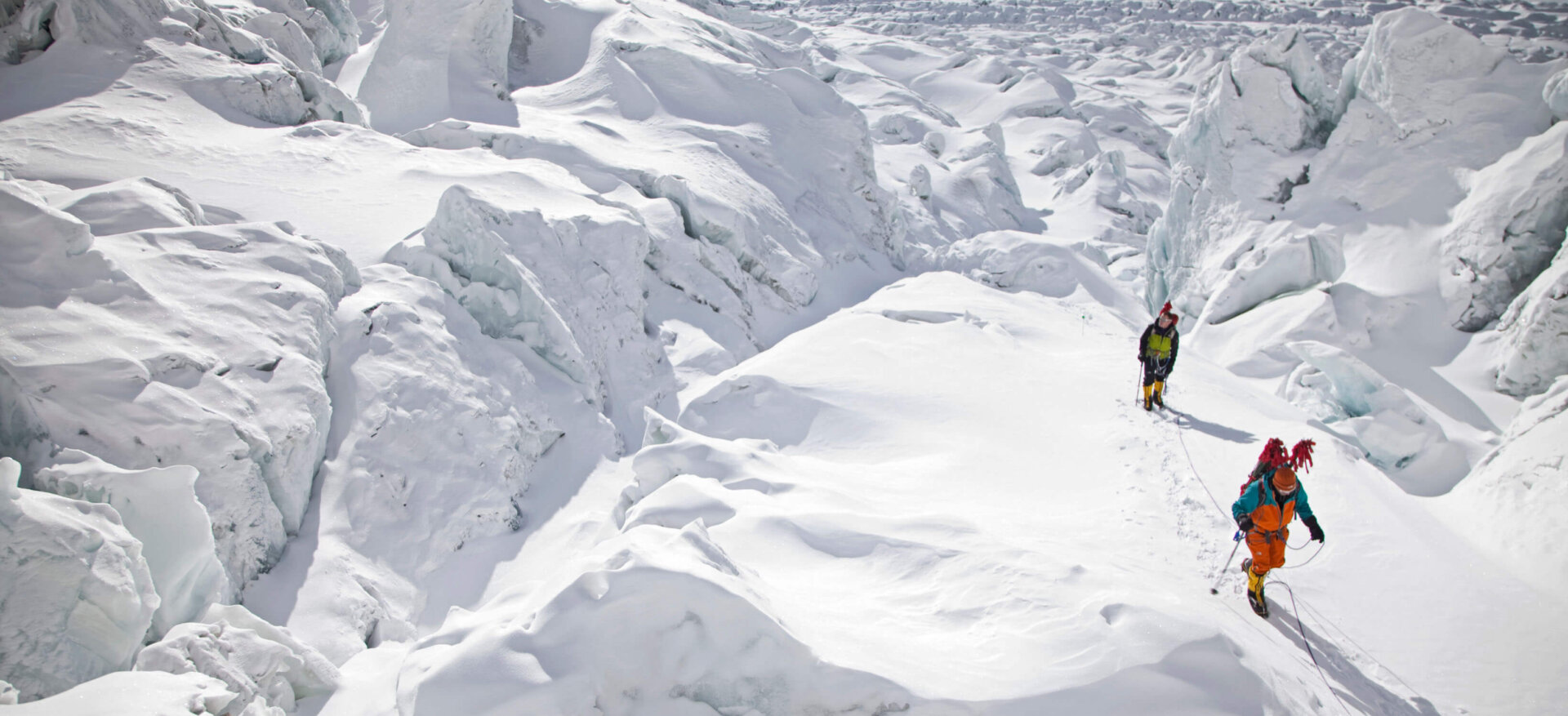 While sitting in a t-shirt and flipflops this morning, enjoying a proper English breakfast (bacon, eggs, baked beans and toast, along with lots of french press coffee), I thought perhaps it was time for a dispatch with pictures. Important to do a bit of work even on a much deserved rest day!
Why was today a rest day for me and 1/3 of the team? Yesterday we summited Lobuche Peak for the first time. Lobuche is about a half days walk from Everest BC and its summit sits at just over 20,000 feet (6090 meters). Its summit has some of the best views in the Khumbu – it is surrounded by famous peaks like Everest, Lhotse, Nuptse, Cho Oyu, Makalu, Pumori, and Ama Dablam. And we were blessed with the perfect day for taking in those views. After waking at around 4:30 am from our high camp at 5350 meters (17,600 feet) we climbed a mix of rock slabs, perfect styrofoam snow, steep glacier, and an exposed knife-edge ridge – all perfect training terrain for what is to come on Everest. By the time we topped out between 9 and 11 am, many of our members were wearing only t-shirts. Yep, t-shirts at 6,000 meters! We spent up to an hour on the summit, acclimatizing and taking loads of photos before racing down to lunch in Lobuche Camp. Some of us even motivated back up the valley, called by our tantalizing Everest Base Camp and a dinner of chicken sizzlers (think chicken fajitas, complete with the sizzling iron skillet) and cold San Miguel beer.
So what makes our basecamp so special? It is made up of almost 50 sleeping tents (each team member gets a 3 person tent to call home), 3 heated and carpeted dining tents, 3 gas powered shower tents, a communications and medical tent (staffed by our Spanish doctor Monica), 2 cook tents (with head cooks Tashi, Lacchu, and a new addition – Kiwi chef Hayden, famous for his desserts, bread, and much more), a Sherpa village (3 huge tents for the Sherpa to live, eat, and play in), our film crew tent (think laptops, cameras, viewing equipment, and countless solar panels for green charging sans generator), food storage tents (with a solar powered deep freezer for keeping chicken, beef, and salmon cool), and finally the whitepod. The white pod deserves its own dispatch – suffice it to say, anyone who's invited in doesn't leave for the rest of the day! Somehow the espresso machine, fully stocked bar, chaise loungers, surround sound stereo, and plasma tv screen seems to keep all visitors!
We are constantly being asked about the comfort of our basecamp and the skill of our cooks. Over the years, team leader Russell Brice has consistently found that climbers who sleep well, eat well, and rest well in BC climb more successfully and safely on the mountain. Everyone hears of emaciated, exhausted climbers on less fortunate teams who have lost massive amounts ofr weight before they even attempt the summit. Our basecamp helps to minimize this – people can live, eat and sleep similarly to how they do at home. When the time comes to push hard on the mountain, they are ready!
And all of this is made possible by our Sherpa team. Our team is supported by 30 climbing Sherpa and 10 basecamp staff – 40 of the hardest working and most talented guys in the entire Khumbu Valley (with countless Everest and Cho Oyu summits between them). Some of them have been working since January to make this basecamp possible – it took 10 Russian M-17 heli loads of equipment (35,000 kg/75,000 lbs) to make basecamp and have supplies for the upper mountain. Once basecamp was completed, the Sherpas had a week or so to visit their families in Khumjung, Khunde, and Phortse, and then they were back here to welcome us in and to begin working above the Icefall. As of today, April 19, they have moved 1500 kg or so of gear through the Icefall and up to Camp 2 at 6,400 meters (21,300 feet). This mammoth effort has been going on nightly while most of us are still curled up in our sleeping bags dreaming of warm beaches and drinks with umbrellas in them!
So what's next? Our members will continue taking turns on Lobuche Peak, with some planning on sleeping on the summit at 6,000 meters to acclimatize. These trips are not only getting our members fit and acclimatized – we are also avoiding trips in the Icefall for us and our Sherpa (the fewer trips we make through the Icefall, the less equipment and food they need to stock in Camps 1 and 2). Meanwhile our Sherpa have organized their loads for another few days of trips to Camp 2 with the rest of our camp equipment, along with countless oxygen bottles and 5000 meters of rope for fixing the upper mountain. And a consortium of Sherpa plan on beginning to fix above Camp 2 in the next week. HimEx Sherpas will certainly be leading this work!
But first, a rest day tomorrow to watch what is being billed as the World's Highest Cricket Game – a team of cricketers from Lords will be playing tomorrow in Gorak Shep – at 5,200 meters the highest town in the Khumbu Valley. Should make for some good entertainment!
-Adrian Ballinger
Himalayan Experience & Alpenglow Expeditions