Ecuador vs. Peru Climbing School
Ecuador vs. Peru Climbing School: Choosing the Perfect Beginner Mountaineering Course
Embarking on a Climbing School expedition with Alpenglow is a thrilling and transformative experience for anyone interested in mountaineering. We offer two enticing options for learning the basics of high altitude mountaineering, each set in a breathtaking South American location. Ecuador Climbing School and Peru Climbing School are two distinct yet equally captivating programs, and choosing between them can be a challenging decision. In this blog, we'll compare these two trips, delving into their unique characteristics, challenges, and rewards, to help you make an informed choice.
Location and Scenery
Ecuador Climbing School: Ecuador, a country straddling the equator, is a land of stunning volcanic landscapes and diverse ecosystems. The program takes you to iconic peaks like Cotopaxi and Cayambe, providing opportunities to climb active volcanoes. Ecuador's varied terrain, from lush forests to high-altitude glaciers, offers a variety landscapes to explore.
Peru Climbing School: Peru is known for the magnificent Andes mountain range, and the program is based in the Cordillera Blanca, home to numerous awe-inspiring peaks. This region boasts breathtaking scenery and an array of high-altitude challenges, including Yanapaccha and Pisco, which are great objectives to set your sights on after PCS. The scenery is strikingly different from Ecuador, characterized by dramatic glaciated peaks and rugged valleys.
Climbing Objectives
Ecuador Climbing School: On this mountaineering course expedition we will focus on education, building technical skills, and gaining mountaineering experience on an attempt to summit Cayambe, the third tallest peak in Ecuador. Cayambe's highest point is at 18,996'/5,790m and it is heavily glaciated. The expedition extension presents the opportunity to cement your new skills as habit, attempting to summit Cotopaxi (19,347'/5,897m) and Chimborazo (20,564'/6,263m).
Peru Climbing School: We will begin climbing Yanapaccha (17,913'/5,460m) after several days of acclimatization hikes, learning about glaciology, route assessment, and technical safety skills. On our next objective, we will attempt to summit Pisco (18,871'/5,752m), which is a true expedition peak.
Cultural Experience
Ecuador Climbing School: Ecuador's rich culture and history are integral to the climbing school experience. You'll have the opportunity to interact with our local guides and learn about Ecuador in a truly authentic way. Visits to historical sites, including Quito, can enhance your appreciation for Ecuador's culture.
Peru Climbing School: Peru, with its Incan heritage and vibrant traditions, offers a deep cultural experience. You'll explore the city of Huaraz and interact with local communities, gaining insights into the region's history and way of life. This cultural immersion complements your climbing adventure.
Altitude and Acclimatization
Ecuador Climbing School: The Ecuador program starts at a lower altitude than its Peruvian counterpart, which can be beneficial for acclimatization. Ultimately, the objectives in Ecuador are a higher elevation than Peru so our gradual increase in altitude during our acclimatization hikes are very important.
Peru Climbing School: Peru's Cordillera Blanca presents higher altitudes right from the start, which can be more challenging for acclimatization. We will start our journey in Huaraz (10,013'/3,052m), However, the objectives in Peru are at a slightly lower elevation than Ecuador.
Expedition Length
Ecuador Climbing School: 9 days with an optional 7 day extension
Peru Climbing School: 15 days
Cost
Ecuador Climbing School: $3700 per person, $2,250 to add on the extension.
Peru Climbing School: $4,950 per person
Women Specific Trip
Ecuador Climbing School: ECS is different than Peru in a major way, we offer a Women's Ecuador Climbing School. Created and led by women, for women, this trip brings together wonderful women looking to learn from one of the best female mountaineering guides, Carla Perez, in her home country!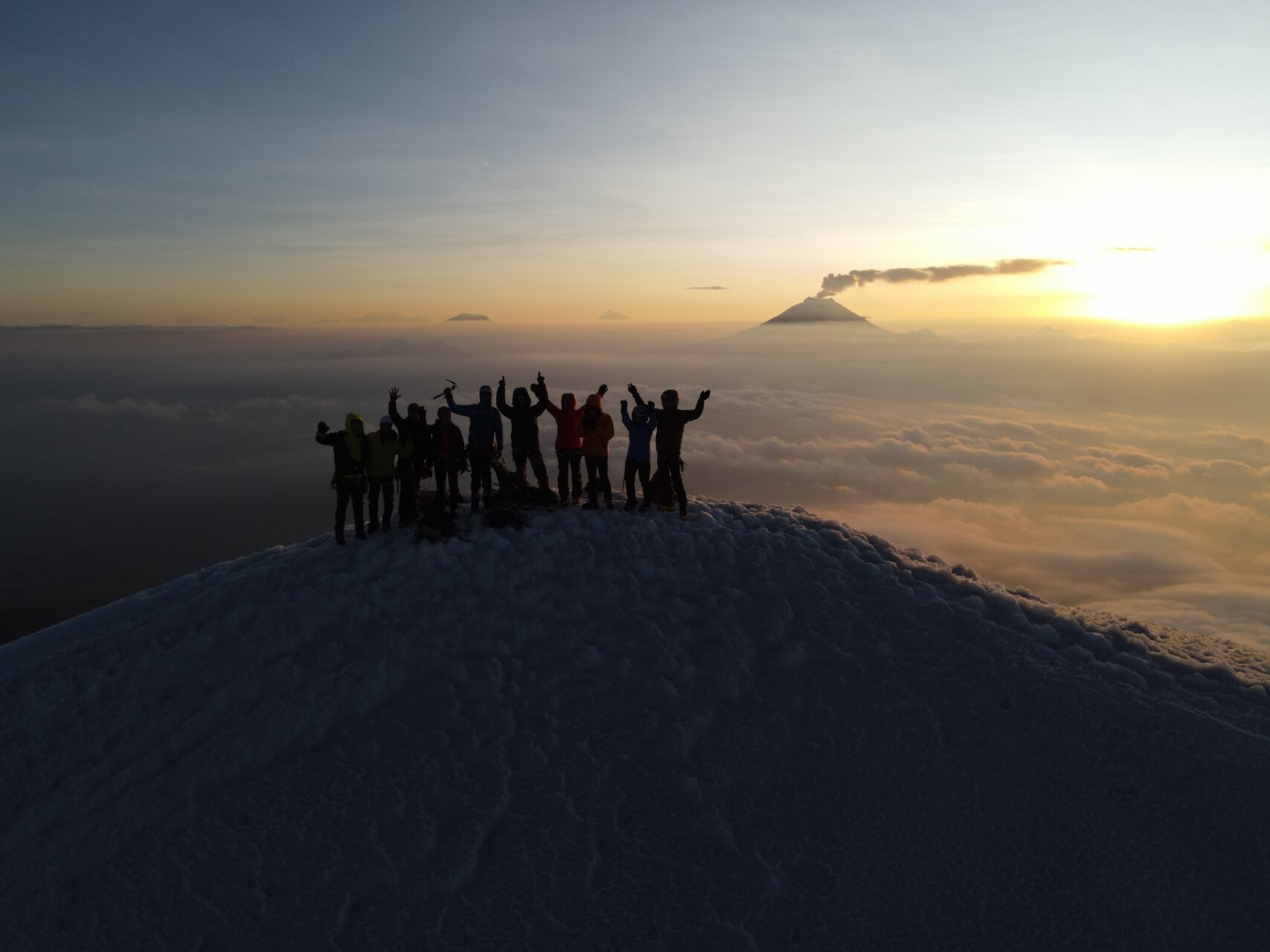 Choosing between Ecuador Climbing School and Peru Climbing School depends on your personal preferences, timeline, and price range. Both Climbing Schools offer an accessible high-altitude mountaineering experience, making them a great choice for beginners. In the end, both trips promise unforgettable moments, breathtaking scenery, and the opportunity to hone your mountaineering skills.
Interested in learning which trip is better for you? Click HERE to ask questions!